Search Engine Optimisation (SEO)
Build it and they will come?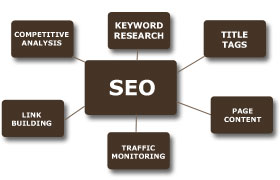 No, that is not likely to happen. And the reality is, there is no point in having a lovely website if the search engine trawlers don't know that you are there.
Your website needs to work on your behalf and for many sites that means optimising your site so that it is picked up by search engines. This is the art (and science) of Search Engine Optimisation or SEO. If you are visible in the search results then you are much more likely to receive visitors to your website.
We provide SEO from our location in High Wycombe, Bucks to help your website become more visible when potential clients use search engines to search for your goods and services
Please contact us to discuss how we can help your website to be found by visitors.